Cat food is a crucial part of a cat's everyday life. So, when COVID-19 hits the world, it is not only the people who get affected but also our fur babies.
This dilemma manifested in empty shelves of cat food in grocery stores. Cat owners get alarmed by this and could not help but wonder, "why is there a cat food shortage?"
The culprit of this canned cat food shortage is the lack of aluminum used for the cans and the meat ingredient for the cat food itself.
Reasons Why There is a Cat Food Shortage
The COVID-19 supply chain issues are to blame for the wet cat food shortage. This dilemma in the supply chain affected the dog food availability last year and now has spread to a shortage of cat food this year.
This limited availability of cat food is now experienced in different states of the USA. Although the wet canned food is more limited in availability, there is also a dry cat food shortage experienced by cat owners.
1. A shortage of aluminum can
Wet cat food is usually packaged in an aluminum can, although this varies from wet canned food. The supply of aluminum was not able to keep up with the growing demand for aluminum by different industries.
China is known for being the leading producer of aluminum cans and there is a noticeable decline in its production of aluminum this year.
This is due to the two known incidents that happened last year and this year. Last July 2021 and April 2022, there had been factory accidents that caused a huge decrease in the number of aluminum productions that could be exported.
The Chinese government also implemented a stricter rule concerning carbon emissions to secure their environmental objectives for the country. This leads to slower manufacture of said product.
This decline affects mainly the United States since it is one of the principal importers of aluminum cans from China.
2. A shortage of meat
This shortage of meat, which is the most important ingredient in cat food, causes a cat food shortage.
Due to the increased cost of manufacturing meat, the meat price also has risen. Another problem is when the meat and other ingredients are sourced outside the borders of the US.
This includes the meat, minerals, and vitamins that encompass the production of cat food itself. Aside from this, there is also a delay in shipping as well as delivering the cat food to the pet food factories.
Although not all cat food is sourced overseas, even though it is from the US, there is still a problem with meat shortage. Most meat used in cat food is off-cuts from human food.
And the problem lies when there is no meat left for the production of cat food. This is due to the majority decline in meat production.
These factors cause a shortage of wet cat food and leave cat owners worried about their cats' daily meals.
3. Increasing cat adoptions
There is also a merging factor that affects the growing demand for cat food—cat adoption. The increase in the number of cat adoptions has also affected the cat food shortage.
Due to the increase in adoption, cat owners will be more compelled to buy food for their pets which will add to the supply shortage.
This dilemma for cat owners causes them to ask, "how long will cat food shortage last?"
How Long Will the Pet Food Shortage Last?
Cat owners are starting to get worried because every time they go to the grocery store to buy their cats their favorite Fancy Feast, Royal Canin or Purina, there is either no stock or not enough.
You might be one of the raging cat owners that posted on Reddit, "when will cat food shortage end?"
In an interview with a manager of a pet store last June 2022, he said that the shortage of wet and dry food might last up until 2023.
Also pet food brands assured the public that they're trying their best to manufacture an adequate amount of cat food for the next 4 to 6 months. This limited availability of cat food has also increased its prices by 10% to 15%
How to Keep Your Cat Well-fed During the Cat-food Shortage?
It might be quite frustrating when your cat is starving and only wants to eat its favorite brand and any pet store does not have any Fancy Feast cat food. You can't help but wonder, "why is Fancy Feast out of stock everywhere?"
It's a good thing there are other brands like Purina but you still come across Purina cat food shortage. The Purina cat food you bought is not enough for your cats so you look for alternatives.
And there is the Royal Canin, however, there's another Royal Canin cat food shortage.
Crazy, right?
As a cat owner, you might be feeling a little stressed due to the cat food shortage in various places in the US. Not only is your problem about the wet food, but there is also a shortage of dry food.
Although not much of a shortage compared to wet food.
A prescription from its veterinarian would be a help to determine the cat food brands and products that you could buy for your cat amidst the shortage.
Another thing you can do is to buy wet food pouches and dry food. Since the dry food shortage is not much compared to wet food because dry food packaging does not use aluminum cans, it is most likely to be available in pet stores.
You just also need to make sure that your cat is getting enough water and is hydrated all the time because dry food does not provide any hydration.
It would not also hurt if you cook wet food for your cat. But doing so needs professional guidance to make sure that you will make nutritionally-balanced food for your feline.
You can, in the meantime, make your cat eat cooked meat or fish. But this is not recommended to be your cat's daily meal.
Therefore, there are several ways to ensure that your cat will still acquire the nutrients it needs to maintain its health amid the cat food shortage.
Conclusion
The COVID-19 made the whole pandemic years stressful for everyone and now there has been a cat food shortage. Cat owners felt even more frustrated about what was going on and asked, "why is there a cat food shortage?"
The pandemic caused a lot of problems in the supply chain. Despite this, there are many ways to sustain our cat's health and diet at this time. You, as a cat owner, just need to be more open and creative in addressing this cat food issue.
This shortage is short-lived. Focus on making sure your cat's stomach is full!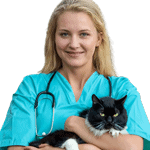 Hi, I am Amy Sawy, a veterinary professional working in the field for nearly 15 years. This site is established to provide cat guardians access to helpful information and health care advice. My co-worker and I run this site mainly to help inexperienced families currently taking care of their cats without professional guidance.