Welcome to Feline Veterinary Emergency Assistance
We are a 501(c)(3) Nonprofit Charity Organization (EIN #16-1624014) that provides emergency financial assistance to cat and kitten guardians who are unable to afford veterinary services to save their companion with Vaccine Associated Sarcoma (VAS), also referred to as Injection Site Sarcoma (ISS).
VAS is a group of cancers caused by vaccinations. Please see the Kobi's Fund Page for details.
PLEASE NOTE: We are accepting applications for Kobi Fund for Vaccine Associated Sarcoma (VAS) only. We apologize if we are unable to help for other situations. Please do not use application for any other purpose as we will not be able to respond. Thank you.
Our Team
As veterinarians, we believe your beloved pets deserve the best care throughout all stages of life. This site has been established to help you understand your cat better and keep your feline companion happy and healthy, no matter your experience with being a pet parent.
As pet parents ourselves, we aim to keep this site available and updated with new articles pertaining to every aspect of your cat's life, whether it's preventive care, grooming, or behavior and training.
Our Veterinary Review Board
Hi, I'm Michael Bose, a veterinarian with over a decade of experience. Caring for animals has been a dream of mine since I was a kid, and after obtaining my degrees in Animal Science and Doctor of Veterinary Medicine, I was able to turn my interest in wellness care for dogs and cats into a life-long career.
Whether you're a new or experienced pet owner, I hope you'll find the information here helpful. Feel free to drop me a message if you need any advice. I always enjoy talking to fellow pet owners who love their furry companions as much as I do mine.
Hi, I'm Jody Green. As a veterinarian, I understand how hard it is to care for your pets, especially during their time of illness or when you have little experience in diagnosing or understanding your cat's behavior and body language.
As a former student of Animal Science, I would like to help others learn just like I once did in school. Whether it's oral care, parasite control, or nutritional care, I hope you'll find something useful here.
Our Editorial Team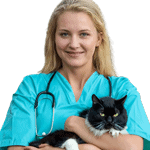 Hi, I am Amy Sawy, a veterinary professional working in the field for nearly 15 years. This site is established to provide cat guardians access to helpful information and health care advice.
My co-worker and I run this site mainly to help inexperienced families currently taking care of their cats without professional guidance.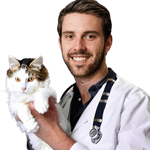 I am Joseph Plummer, a veterinarian with 10 years of experience. During my work, I have seen many new cat parents not fully prepared for unexpected situations. We also see many who cannot get access to professional care for their cats.
That's why we decided to open this site. We aim to provide advice on behavior and training, and health issues and answer the most common queries that kitten guardians have. Reach out to us if you need any advice.