A bobcat has the features of both a cat and a lion. But little did we know that bobcats belong to the cat family (Felidae). This also includes tigers, lions, jaguars, and so on.
So, what is a baby bobcat called? In simple terms, it is just called a kitten! It is the same as their domesticated counterparts. Though an unofficial name for it can be bobkitten.
In this article, let's dive into the intriguing world of baby bobcats, discovering their characteristics, behaviors, and special bond with the wildcat heritage. Read more to know.
Names of Baby Bobcats
Bobcat babies are called kittens or bobkittens. This is because they come from their membership in the Felidae family or the cat family. This is also because of their bobbed tails that make them unique among the rest of their kind.
The baby bobcat name "kittens" emphasizes their resemblance with their broader family of cats. It highlights their membership in the larger Felidae family. It paints a picture of their innocent expressions, tiny paws, and playful attitude.
On the other hand, you might also encounter that a bobcat baby can also be called "bob kittens" or "cubs." It recognizes explicitly their line as bobcats as well as being part of the bigger type of felines. It showcases their attributes as being wild creatures.
May it be "kitten", "bobkitten", or "cubs", a baby bobcat will always be a bobcat in his very own unique way.
Both names are acceptable to use in describing baby bobcats. Their names symbolize a sense of endearment and playfulness. But, they are still considered to be dangerous animals.
Characteristics of Baby Bobcats
What does a baby bobcat look like? They have almost the same characteristics as domestic cats. But, bobcats tend to be bigger than domesticated cats, as they weigh around 9 – 12 ounces at birth. While they may share similarities with domestic kittens, their upbringing differs.
They possess an undeniable charm and irresistible cuteness. Their playful characteristics may resemble those of domestic kittens. That is why it may be challenging to distinguish between them.
But, there will always be something that sets them apart from the others. Here are some of the attributes to look for to know if it's a bobcat:
Physical Attributes
Black lining on top of their ears
Dark stripes on their legs
Dark fur with spots
Big feet with long back legs
Bobbed off tails
Behaviors
Can climb trees
Goes hunting at dawn
Marks their territory by clawing trees in their area
Can jump six feet in the air
In terms of size, they are just doubled the size of an average domestic cat. They tend to look scarier and bigger because of their wild fuzzy fur.
Bobcat kittens may look adorable but do not be deceived because they are trained by their mother with hunting skills to capture their own meals and survive in the wild.
Their behaviors are far different from domesticated cats because they tend to attack, especially if that is a stranger.
Young bobcats cannot be considered pets because of their characteristics. Their fierce looks are proof of how good they are when hunting. With sharp teeth and claws, they can definitely kill their prey.
These attributes enable them to be independent and venture out on their own.
Conclusion
Now that you know what is a baby bobcat called, it is interesting to learn more about them. It catches our attention to dig deeper and search for meanings about their characteristics, behaviors, and hunting skills.
The information about baby bobcats made us aware of preserving and protecting these amazing species for future generations to witness as well.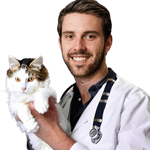 I am Joseph Plummer, a veterinarian with 10 years of experience. During my work, I have seen many new cat parents not fully prepared for unexpected situations. We also see many who cannot get access to professional care for their cats.
That's why we decided to open this site. We aim to provide advice on behavior and training, and health issues and answer the most common queries that kitten guardians have. Reach out to us if you need any advice.