Are you enchanted by blue cats and desperately want to bring a touch of that silvery fur to your home? Then you might think of the Korat vs Russian Blue cats, which are the two most popular gray feline breeds in the world.
It's not easy to identify these two cats because of their similar shade and green eyes. However, there're still some hints and key differences that'll help you tell them apart.
A Thai-originated active and playful cat or the one from Russia which is well-behaved and calming? The choice is yours!
Take a look at this summary table to have a quick perspective of the Korat and Russian Blue cats:
Korat
Russian Blue
Origin
Thailand
Russia
Size
Height: 9-13 inches

Weight: 6-10 pounds

Height: about 10 inches

Weight: 7-15 pounds

Face
Heart-shaped
Wedged-shaped
Ears
large ears with rounded tips
large ears with more pointed tips
Eyes
green or amber cast color
emerald green
Coat
single short coat with silver-tipped blue
double plush coat with a slightly lighter gray hue
Lifespan
Korat's lifespan is 10-15 years
Russian Blue's lifespan is 15-20 years
The Different Origins of the Korat and Russian Blue Cats
1. Korat cats
The Korat cats might appear in some corners of the world, but little do people know that they originated from a tropical land in Asia, Thailand.
In fact, they are the oldest and most respected breed of cats in this country. Formerly known as Siam, they're called "Si-Sawat" cats, meaning "color of the Sawat seed."
This cat breed is highly prized for its beauty and intelligence and is a lasting symbol of good luck and prosperity.
2. Russian Blue cats
As their name might imply, the Russian Blue Cats originated in Russia. With a long history, the exact origin of this breed is unknown.
However, they're believed to first appear in the port city of Arkhangelsk (in Northern Russia), where they were known as the Archangel Cat.
During their history, the Russian Blue are brought to different parts of the earth. They landed in England in the late 1800s and were exhibited at the Crystal Palace cat show. They also appeared in the US in the early 19th century and became popular after World War II.
How the Korat and Russian Blue Differ in Their Physical Appearance
Visual features
Korat
Russian Blue
Head shape
– heart-shaped with a large muzzle
– wedge-shaped with a narrow muzzle
Ears
– large ears with rounded tips; slightly tilted forward
– large ears set a little further apart; more pointed tips.

Eyes
– oversized eyes with green or amber cast eye color
– eyes set wide apart; color changing from yellow to emerald green as they age
Body
– semi-cobby body
– muscular body with longer legs
Fur
– shorter and finer coat

-sparkling with silver-tipped blue

– thick and plush coat

– varied gray hue yet slightly lighter than the  Korat's

Paw pad
– Korat cats own dark blue to lavender paw pads
– Russian Blue paw pad color is mauve
Tail
– medium tail
– long tail

– some Russian Blues have tail rings
1. Fur
Both the Korat and Russian Blue are short-haired, and you might easily spot the similar gray hue of their fur. However, there are some subtle differences in terms of their coat that make each of these breeds unique.
The Thai-originated ones have finer coats than those from Russia, which tend to lie closer to the body. Plus, their coats are quite consistent in color scale, with little or no variation all over their body.
You'll be impressed by how they earn a sparkling appearance thanks to their gray coat with silver-tipped blue (also called "sea foam" in Thailand).
The cold weather in Russia might inspire the development of this cat breed's thick and plush double coat, compared to the thinner one of the Korat.
Plus, though the Russian Blue is well-known for its gray fur, the color might vary in shade (from light to dark gray-blue), with a slightly lighter color on its underbelly.
2. Head shapes
The Korat has a heart-shaped face with high cheekbones and a wide muzzle. They also have a large forehead which accentuates their head shape, forming a second heart on their face.
Meanwhile, the Russian Blue's faces are smooth wedge-shaped, with a straight profile and a narrow muzzle. Plus, they have a broad face across their eyes, which gives the impression of a more curious expression.
3. Eyes
While the eyes of the Korat and Russian Blue cats share some similarities, there are also notable differences in size, placement, and color.
The Korat has almond-shaped eyes, which are often wide open. They look oversized for their heart-shaped face.
Korat kittens have golden green eyes. As they mature, their eyes turn vividly green or amber, one of the defining features that help them earn the nickname of the "meanest face".
The Russian Blue cat eyes are also rounded but set wider apart on their face. One fun fact about this cat breed's eyes is that they change their color from yellow to emerald green when they mature.
4. Ears
The ears of a Korat cat are set relatively high on its head and are slightly tilted forward. They're large and have rounded tips.
The Russian Blue's ears are also set high but a little further apart. They're also large but tend to be more pointed compared to the Korat.
5. Body
If you're looking for a cat to sit on your lap and cuddle with you, these two breeds are an ideal choice.
With 6-10 pounds in weight and up to 13 inches in length, the Korat cat's body is muscular and considered semi-cobby. Thus, they are heavier than they might look.
Additionally, these cats have broad chests, curved backs, and slightly unequal leg lengths (the back legs are a little bit longer than the front ones).
The Russian Blues appear to be chunkier because of their double coat. However, they still have muscular bodies with longer legs than the Korat cats.
The fact is that this cat breed easily gets obese. So if you want to maintain that firm body, give it a suitable diet.
Additionally, there's a difference in the body size of the Russian Blue cat male vs female (male ones are often bigger). Notice this feature will help you identify them more precisely.
The Key Distinct in Their Temperaments
The Russian Blue vs Korat are both breeds of cats with unique personalities. They're known for their intelligence and affectionate nature. Still, their varied temperaments are the crucial aspect that helps you decide whether it's suitable for your family.
Highly energetic as they are, the Korats are the most affectionate cats who don't like being alone and always demand your love and attention.
The Russian Blues are slightly clinging to an independent lifestyle since they're fine staying alone for a while, which is ideal for any owner who works outside all day.
Korat
Russian Blue
Energy level
– They're energetic cats who always love playing, climbing, and exploring everything around them
– Their energy level is at medium

– They work out their energy by running and playing around the house

Intelligence
– Deeply intelligent

– They're considered mind readers for knowing what's in your mind

– They enjoy food puzzles, training, and games

– Highly intelligent with a strong hunting instinct

– Love playing with toys to suit their needs for mental stimulation

Boredom threshold/Independence
– A lap cat who might follow you around the house

– Can't stand a long time being alone; which might result in anxiety and some unexpected behaviors

– They're fine to be left alone for a while
Indoor/Outdoor preference
– With advanced energy levels and high demand for attention, they appreciate both indoor and outdoor living conditions
– Love the outdoor environment to satisfy their avid hunting skills
Friendliness
– Social cats who easily get along with humans and other animals.

– They might be jealous of other household pets when it comes to attention.

– Uncomfortable  and alert with strangers

– Once they get along, they become affectionate but still remain calm and not too clingy

Vocalization
– They're quite quiet

– To show their demand for food or attention, they'll rub their paws together

– Deeply vocal

– They'll use their voice to communicate with people and other housemates for food, playing, or snuggling
How Much Do They Cost?
To adopt a Korat cat, you'll have to spend around $600 and $800. But if you need to save a little money, the Russian Blue is still a great option for a nice pet. A purebred one will cost you about $400 to $600.
Remember that the Russian Blue price and Korat cat price are not fixed. It might vary depending on their age, condition, and even where you adopt them.
Another notice is that if someone's asking, "What is the long hair Russian Blue cat price?", it's not in the range between $400 and $600. The reason is that a long-hair Russian Blue is a Nebelung cat, a completely different cat breed with a higher price range.
Frequently Asked Questions
How can I tell if my cat is a Korat or Russian blue cat?
There are some significant details that help you pinpoint the Korat vs Russian Blue or Russian Blue vs gray cats:
Fur: Korats have a short, silky coat with a darker shade (and a silver-blue color at tips) than Russian Blue (which is brighter and plusher).
Head shape: While the Korats' faces are heart-shaped, those of Russian Blues are wedge-shaped
Personality: The Korat personality will show you how active and affectionate this breed is. Meanwhile, a Russian Blue is much calmer and reserved.
How rare is a Korat cat?
Korat cats are considered to be a relatively rare breed. They're one of the 16 rarest cat breeds on earth, besides the Chartreux, American Bobtail, Khao Manee, and more.
Since they're rare even in their home country (Thailand), improving their gene pool is challenging.
For those who already own a Korat, it might be a gift they receive from others.
Do Russian Blue cats with white markings exist?
In fact, purebred Russian Blue cats have no white markings on their coats. But if it happens to be a cross-breed Russian Blue, you might spot some white markings.
Some might look for Korat Tabby mix, however, the "ghost tabby" markings soon disappear from a Korat cat when it matures.
Conclusion
Korat and Russian Blue are gorgeous cat breeds that can make the perfect pets for the right owner.
When it comes to identifying one of them or a Russian Blue and Korat mix, a closer look at their appearance and personality will help. While the Korat with a heart-shaped face is playful and energetic, the wedge-shaped face of Russian Blue tends to be more laid-back and easy-going.
No matter what you decide to choose, the Korat vs Russian Blue cats, you're sure to own the most amazing, loyal, and loving companion in your life.
Read more: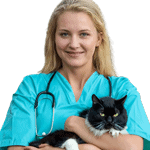 I am Amy Sawy, a Doctor of Veterinary Medicine (DVM) graduate from the University of Kansas. y husband, Dr. Plummer, and I own a veterinary clinic in Phillipsburg, Kansas. In addition to my professional background, I am a devoted pet owner myself, with a household that includes dogs, rodents, and most notably, cats – a total of five felines in my home.
In 2020, I joined an organization as a professional writer, leveraging my experience and collaborating with my team to deliver the most valuable information for your cat's care.