When searching for cat food, one name you often encounter is Purina, which is currently number one in global pet care. The two top-selling product lines within this brand are Cat Chow and Purina One.
So, between the two, which one is better for your feline companion? Check out this Purina cat chow vs Purina One comparison to make an informed decision.
Purina One vs. Cat Chow Comparison
1. Nutritional value
One of the first things you should pay attention to when buying cat food is its nutritional value to ensure it meets the pet's dietary needs.
Between Purina One and Cat Chow, the former is richer in terms of crude protein, fat, and fiber. Such a diet is ideal for cats suffering from weight issues or diabetes. Meanwhile, food with lower protein content will be better for felines with liver or kidney problems.
| | | |
| --- | --- | --- |
| Nutrient | Purina Cat Chow | Purina One |
| Crude protein | Up to 38% | Up to 42% |
| Crude fat | Up to 13% | Up to 17% |
| Crude fiber | Up to 5% | Up to 5.2% |
2. Price
Unsurprisingly, Purina One is slightly more expensive than Cat Chow due to its higher protein and fat content. You can check the table below to see the price difference between the two product lines.
Product
Per pound pricing
Purina Cat Chow
Cat Chow Complete with Real Salmon Dry Cat Food
$1.24
Purina Kitten Chow High Protein Cat Food Naturals
$1.9
Purina One
Purina ONE Real Salmon #1 Ingredient Dry Cat Food
$2.14
Purina ONE® Kitten Dry Cat Food
$2.94
That said, Purina One is still considered an affordable option compared to its competitors, as pointed out by u/Treschelle "Purina One is our cheap, but still good choice. Wholesale clubs usually sell it, too, for it to be even cheaper."
3. Recalls
No discussion on pet food is complete without knowing the recall history, since it gives you an idea of how trustworthy the product quality control is.
Purina Cat Chow was recalled back in 1978. Purina One, unfortunately, was recalled twice – one time in July 2011 and another in August 2013.
4. Variants
Within the Purina Cat chow rand, there are 3 main categories, namely:
Cat Chow indoor products
Cat Chow natural
Cat Chow complete products
If you buy from Purina One, you'll have up to 6 main categories to choose from:
Dry cat food
Wet cat food
Kitten food
Senior cat food
Indoor advantage
Sensitive systems
In terms of versatility, Purina One has an edge since it also sells dog food. Moreover, it offers dry and wet food options, while Parina Cat Chow only offers dry cat food.
5. Controversial ingredients
Purina Cat Chow does have some controversial ingredients like:
Sodium selenite
Artificial colors
Some of the controversial ingredients in Purina One include:
Artificial colors
Corn gluten meal
Animal byproducts
Both product lines have controversial ingredients. However, it seems like Purina One has more of them. Add to that the fact that it has been recalled twice, which makes it more risky. Therefore, Purina Cat Chow certainly wins this round.
Which Food is Better for My Cat?
Instead of going through countless reviews to find pet food good for cats, it's best to go with Purina Cat Chow. Even though it doesn't feature as much nutrition as Purina One does, it also has less controversial ingredients and a better track record in terms of recall.
Conclusion
Even though the comparison of Purina Cat Chow vs Purina One seemed like a close one, when you look at the bigger picture, you realize that the former is the clear winner due to how it poses less safety concern.
That said, Purina One is not a bad choice either, considering how well-received it is. In fact, it's also recommended by vets and proven to improve feline health. So, if you're tempted by its appealing nutritional value, don't hesitate to go for Purina One.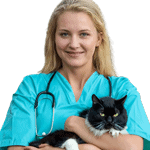 I am Amy Sawy, a Doctor of Veterinary Medicine (DVM) graduate from the University of Kansas. y husband, Dr. Plummer, and I own a veterinary clinic in Phillipsburg, Kansas. In addition to my professional background, I am a devoted pet owner myself, with a household that includes dogs, rodents, and most notably, cats – a total of five felines in my home.
In 2020, I joined an organization as a professional writer, leveraging my experience and collaborating with my team to deliver the most valuable information for your cat's care.