When providing the best nutrition for our feline buddies, fur parents often face an aisle of difficult-to-choose-from options. However, here comes the Tiki Cat, a cat food brand that has gained popularity in recent years.
Owned by Petropics since 2005 and primarily made in a facility in Thailand, the brand offers a range of cat food products that claim to be high-quality and nutritionally balanced!
Then, is Tiki Cat a good cat food? It certainly is. Instead of having the typical filler  and artificial ingredients, it takes pride in using real, whole meats in all its products! The brand also provides a selection of treats, supplements, and wet and dry food options!
In this Tiki Cat food review, we will help you look into its ingredients, nutrition analysis, and price for you to make the purrfect choice for your little feline.
Notable Features of Tiki Cat Food
Tiki Cat frequently feature high-protein meats, which is vital for the nutritional requirements of our feline pals!
But to gain more insight, let's take a look at the nutritional analysis of some famous Tiki Cat food products:
1. Ingredients and nutritional analysis
Tiki Cat Born Carnivore High Protein: Chicken, Herring & Salmon
This is a protein-packed blend for cats of all life stages that features real chicken as the lead ingredient. Available in crunchy kibble forms, the food is guaranteed to be minimally processed and free of animal byproducts.
Tiki Cat Born Carnivore is baked, thus ensuring a delicious flavor to enchant your feline friend. Packed with natural ingredients, this cat food offers numerous health and nutritional benefits, as shown below.
Ingredient Analysis:
Chicken & Herring—Offers high protein content that aligns with a cat's natural dietary preferences and also delivers crucial fatty acids for enhanced feline well-being.
Salmon Oil—Contains essential fatty acids: omega-3 and omega-6. They enhance the cat's skin and coat while lowering inflammation.
Dried Egg Product—Since cats are unable to produce taurine on their own, dried egg products help incorporate the nutrients in your cat's diet. Dried eggs are also an essential protein and fortify your cat's immune system.
Peas—Acts as an additional protein and gentle fiber source for digestive support.
In addition, it also features ingredients like tomato pomace, calcium iodate, vitamin A/B12 supplements, vitamin B1, etc.
Calorie Content:
Tiki Cat Born Carnivore Baby Kitten Health: Deboned Chicken & Egg
The baked kibbles offer real chicken as a protein source, accompanied by pumpkin for digestion support suitable for your adorable tiny kitten's health and nutrition! The non-GMO, low-carb, and high-protein formula is specifically designed for kittens 6 weeks and older.
Ingredient Analysis:
Chicken & Dried Egg Products—Both are good sources of protein for kittens. Aside from that, the dried egg product provides amino acids and helps in supporting your kitten's immune system.
Pumpkin— Provides antioxidants and fiber to aid the feline's bowel movement, making the food ideal for kittens with constipation or diarrhea.
Chicken Liver—Aside from protein, chicken liver offers important vitamins like A and B12 as well as minerals like iron. These substances aid in energy metabolism, immunity, and muscle growth.
Spinach—It enriches the food's nutritional content with vitamins, antioxidants, and minerals that support overall health, digestion, and immune function. Although not as abundant as fish and salmon oils, the leafy green also has Omega-3 fatty acids.
Other ingredients also include salmon oil, manganese sulfate, vitamin E supplement, vitamin B1, and more!
Calorie Content:
Other Tiki Cat Food Products
If you're still looking for other options, Tiki Cat offers a variety of products with different flavors and formulas, ranging from dry food to meal toppers, wet food, and even treats! Here are some other well-known Tiki Cat Food products:
Tiki Cat After Dark: A wet cat food lineup that focuses on high-protein and flavorful recipes, often including organ meats like liver, giving cats a more primal diet experience.
Tiki Cat Baby: Rich in fat and protein, Tiki Cat Baby would also be a good choice in accommodating their growing energy demands and rapid growth. The food features soft layers to make it easier for your kitten to consume.
Tiki Cat Stix: A type of treat or complementary food with flavors like tuna, chicken & shrimp, etc., designed to provide a delicious and nutritious snack! Smooth and creamy, the treat is an excellent way to add more moisture to your cats' diet.
Tiki Cat Raw: Provides minimally processed yet safely sealed high-quality raw meats that are closer to their natural state.
There are still plenty of flavors and other formulations offered, so if you want to browse and learn more about them, you may check out the Tiki Cat website for an extensive catalog.
2. Price
Aside from the quality of the ingredients and nutrition undeniably, the price cost is also a crucial factor. And since Tiki Cat is a premium cat food brand, its products are expected to be more expensive than some other brands.
Here are some of the prices of famous Tiki Cat Products:
Tiki Cat Born Carnivore: around 21$-35$
Tiki Cat After Dark: around 18$-26$
Tiki Cat Stix: 6$-8$ per pack of 1
* Prices may vary depending on where the product is purchased and what flavor and formulation you'll be getting for your little Garfield.
Pros and Cons
Pros
High-quality and non-GMO ingredients
Emphasis on protein-rich, meat-based recipes
Offers a range of flavors and textures
Do not contain artificial ingredients
Grain-free
Cons
More pricey compared to other brands
Not available in all stores
Is Tiki Cat Food Any Good?
Considering the specific needs of your feline pal and their diet requirement, Tiki Cat food appears to be a good choice and worthy of its price!
The brand is a recommendation for fur parents who highly prioritize their fur pal's health and development because it emphasizes premium ingredients, a species-appropriate diet, and a range of flavors to choose from.
In addition, Tiki Cat's products are free of artificial ingredients, flavors, and preservatives. It's also noteworthy that their food doesn't contain grain, which can make things harder for your cats' digestive system.
See how everyone thinks about Tiki Cat food here:
Is Tiki Cat wet food a bad food? Adoption agency recommends IAMS Dry or Wet over it.
byu/graceandstuffs inCatAdvice
Conclusion
We started this nutritional journey with the central question, "is Tiki Cat a good cat food?"
Now, as we went through all the essential things about Tiki Cat Food, we learned that the brand emerges as a strong contender for top-tier, species-appropriate nutrition.
But of course, as we always like to remind dear cat parents, seeking professional advice from a veterinarian before embarking on a dietary shift is essential. It is especially vital if your feline has pre-existing health conditions.
Until next time!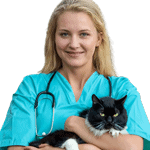 Hi, I am Amy Sawy, a veterinary professional working in the field for nearly 15 years. This site is established to provide cat guardians access to helpful information and health care advice. My co-worker and I run this site mainly to help inexperienced families currently taking care of their cats without professional guidance.