One of the most important factors in maintaining your feline friend's health is the food they eat. For this reason, choosing high-quality, nutrient-dense food is crucial.
Today, two of the most popular cat food brands are Iams and Purina ONE, which have established a good name among feline owners. This makes the decision of which brand to choose for your pet complicated.
To help you find the best cat food brand, this article will compare Iams Vs. Purina ONE cat food. We'll also list some of the popular products for each brand, so stick with us till the end.
A Quick Look
1. Iams Cat Food
Who makes Iams cat food? FYI, Mars, Incorporated is the company that owns Iams – a cat and dog food brand. Most of its cat food varieties are manufactured in the US, particularly in its facilities in North Carolina, Ohio, and Nebraska.
The brand never released a statement about where it sources its cat food ingredients. However, Mars's Supplier Code of Conduct and Responsible Sourcing ensures that its partners ethically source its cat food ingredients.
Iams also claims that it utilizes the strictest pet food safety program to ensure the brand goes beyond the standards of the FDA and USDA.
2. Purina ONE Cat Food
Purina ONE is a food brand that focuses on providing pets with the nutrition they need for visible health improvement. The brand was introduced in the market in 1986.
According to Purina ONE itself, their cat food varieties consist of high-quality ingredients, making them one of the top-of-the-line brands in the market. It offers a vast range of dry and wet cat foods, both in grain-in and grain-free forms.
This fact makes Purina ONE a good cat food brand for felines of any age and nutrient requirements.
Purina vs Iams Cat Food: Distinguishing the Differences
| | | | | |
| --- | --- | --- | --- | --- |
| Nutrient Content | Iams Wet Cat Food | Purina ONE Wet Cat Food | Iams Dry Cat Food | Purina ONE Dry Cat Food |
| Protein | 46.7% | 52.9% | 35.7% | 40.4% |
| Calories | 35  kcal ME/serving | 70 kcal/serving | 320 kcal per serving | 400 kcal per serving |
| Fiber | 4.9% | 7.6% | 4.6% | 3.7% |
| Tourine | 0.06% | 0.07% | 0.13% | 0.15% |
| Moisture | 82% | 80% | 10% | 12% |
| Fat | 21.8% | 16.8% | 15.9% | 16.2% |
Is Iams better than Purina? The only way to answer this question is to compare how the two brands differ.
1. Nutritional values
In terms of dry and wet cat food, Iam features less protein than Purina. However, this also means that Iams' calories content is also lower than its competitor, making it a better choice for cats on a strict diet.
Since cats require fiber in their diets for proper digestive function, you'd want to pick a fiber-rich formula as well. In this case, Purina ONE wet cat food would be the best option. However, for dry cat food, Iams is the better alternative.
2. Ingredients
To provide your felines with a balanced diet, their food should contain a mix of protein, fiber, carbohydrates, and vitamins. Iams cat food has chicken, salmon, ocean fish, beet pulp, corn, fruits, vegetables, and wheat.
Meanwhile, Purina ONE claims that its cat food contains real meat, poultry, and fish. They added that they do not use fillers to keep their products healthy for your felines. Purina ONE cat food also contains vegetables, which the brand calls "ingredients found in nature."
3. Price
Iams aims to provide felines of every age with nutritious food by utilizing only high-quality and nutritious sources. On the other hand, Purina ONE focuses on providing accessible nutrition to cats.
This difference in philosophy resulted in a price difference. Iams tends to be more expensive than Purina ONE, although there are rare instances when the latter becomes more expensive.
For instance, a 7-pound bag of Iams salmon-flavored cat food costs $18.98, while the Purina ONE costs $16.25.
4. Product variety
Although Iams has fewer cat food options than Purina, the brand also offers more health benefits. To be specific, Iams has 7 dry and 2 wet cat food varieties that focus on different aspects of cats' health, including:
Healthy digestion
Sensitive digestion
Overall health
Immune health
Long hair
Weight control & hairball prevention
Bone/Joint
Urinary tract health
Meanwhile, Purina ONE offers up to 12 dry and 17 wet cat food varieties. These formulas are designed to tackle health issues like:
Hairball control
Urinary tract health
Sensitive health
Weight management
5. Pros and Cons
1. Iams cat food
Like any other brand, Iams has its fair share of advantages and disadvantages.
Pros
Iams cat food varieties contain protein from real and high-quality meat sources.
There are cat food formulas for various life stages and health concerns.
Iams cat food contains vitamins and minerals cats need to remain healthy.
2. ONE cat food
Pros
Generally affordable.
Offers more product varieties
The brand uses real animal protein as its cat food ingredients.
Cons
Purina ONE uses extenders like wheat, rice flour, and corn meal on its cat foods, causing its formulas to contain high amounts of carbohydrates.
6. Popular Cat Food Varieties
1. Iams Cat Food
If you are planning to try Iams cat foods for your feline friend, here are some of the popular formulas the brand has:
Iams ProActive Health Indoor Weight & Hairball Care. Made for indoor cats that need to maintain a healthy weight, it contains omega-3 fatty acids and protein from real chicken and turkey meat.
Iams ProActive Health Kitten Dry Cat Food. This kitten food has chicken as its main ingredient, providing your young pets with the proper amount of protein. It comes in the form of small kibbles, ensuring easy consumption for your cats.
Even better, the Iams healthy naturals cat food contains vitamin E, omega-3 DHA, and prebiotics to support your pet's overall health.
2. Purina ONE Cat Food
Purina Pro Plan LiveClear Probiotic Chicken & Rice Cat Food. This dry cat food contains high protein and probiotics that help improve a cat's digestion. Even better, it is allergen-reducing, making your pet less triggering for people with allergies.
Purina ONE True Instinct Protein Rich Cat Food. This protein-rich cat food consists of real chicken and added vitamins, minerals, and nutrients. It is moisture-rich, thus helping cats stay hydrated while promoting healthy skin and fur.
Which Cat Food Brand is Better?
Iams cat food formulas are better than Purina ONE in terms of ingredients. The brand does not use fillers like rice and wheat, thus keeping its cat food formulas protein-rich yet less in carbohydrates.
On the other hand, Purina ONE is better regarding price and product varieties. And since the brand also uses real meat for its products, pet parents on a tight budget can still rest assured that their cats are getting the nutrients they need.
I buy Purina One for my cats, bills are going sky high, how bad are the cheaper alternatives?
byu/dragonmermaid4 inCatAdvice
Conclusion
Iams vs. Purina ONE cat food – this comparison allows pet owners to identify which is the better cat food for their feline friends. It also ensures that your cat is achieving optimal nutrition from the food it consumes.
Whatever cat food brand you choose, the most important thing is to look for one that your pet finds palatable. This way, your pet can enjoy their food while keeping themselves healthy.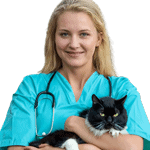 Hi, I am Amy Sawy, a veterinary professional working in the field for nearly 15 years. This site is established to provide cat guardians access to helpful information and health care advice. My co-worker and I run this site mainly to help inexperienced families currently taking care of their cats without professional guidance.