Pet owners need to pick high-quality cat food to feed their cats. While there are many options in the market, selecting the best one can be confusing.
One of the well-known cat foods today is Acana and Orijen, which come from the same manufacturer – Champion Petfoods. It is a Canadian company known for making premium pet food made of the most nutritious part of the animal.
Given that they are from the same company, Acana vs. Orijen cat food –  which is healthier for your cat's diet?
| | | |
| --- | --- | --- |
| | Acana | Orijen |
| Protein Content | 33-36 % | 40% |
| Meat Content | 75% | 90% |
| Crude Fat Content | 18% | 20% |
| Crude Fiber Content | 4% | 3% |
| Dry Food Variations | 8 | 8 (Kibbles are coated with freeze-dried cod liver oil) |
| Wet Food Variations | 5 | 5 |
| Price | Budget Friendly | Expensive |
Acana and Orijen Cat Food: An Overview
1. Acana Cat Food
Acana is a premium cat food whose ingredients mainly include a high percentage of animal protein. It's made from fresh ingredients and is preservative-free, making the cat food suitable for cats' special diets.
Acana cat food is manufactured in the US. Champion Petfoods began its operation in 1985 under the management of Reinhard Muhlenfield, its owner. Now, the company is the largest pet food manufacturer in Canada.
2. Orijen Cat Food
Also manufactured by Champion Petfoods, Orijen is a high-quality kibble type of cat food. For many years, the brand has claimed to be using fresh animal ingredients that make their product exceptional.
Each pack of Orijen cat food contains high-protein ingredients, including fish, chicken, and turkey. This makes the cat food nutrient-dense, allowing your feline friend to absorb all the nutrients it needs with every bite.
Orijen vs. Acana Cat Food: What Are the Differences?
While there are many cat food brands in the market, pet owners may need help choosing what to buy since there are many factors to consider, like its nutrient benefits, flavor, and even price.
1. Ingredients
Since the same company makes Acana and Orijen, they contain high-quality and regional ingredients, which make the nutritional value of these products better than any cat food in the market.
75% of Acana is made of animal protein sources like deboned chicken, turkey, beef, fish, and other meats as their primary ingredients. It also uses fruits and vegetables to supply essential vitamins such as minerals and fibers.
Orijen cat food, meanwhile, is formulated to mimic felines' carnivorous nature. Like Acana, it maintains high-protein ingredients, but up to 90% of Orijen are fresh, raw, or dehydrated animal ingredients.
2. Protein and fat content
Orijen Cat Food has an average of 38% to 42% protein content in some of its formulas, making it closer to what a cat would eat in the wild. However, it also features a higher crude fat content—up to 20%.
Acana, on the other hand, has a lower protein range from 25% to 35% but is still suitable for cats with a diet focused on meat-based protein. Its fat content is also slightly lower, around 18%, making it more suitable for felines with a low-fat diet.
3. Fiber content
As Acana also contains a generous amount of fruits and vegetables, its crude fiber content is also higher than Orijen's. Whereas the former's crude fiber content is 4%, the latter's is only 3%.
4. Variation
There is not much difference between Orijen and Acana when it comes to variations, both featuring 8 dry versions and 5 wet cat food. However, Orijen's dry kibbles are coated with an additional layer of freeze-dried cod liver oil for a better flavor.
As such, Orijen naturally contains more Omega-3 fatty acids, 0.8% vs. Acana's 0.6%.
5. Price
Orijen Cat food is more high-end compared to Acana since it uses a more premium ingredient. To give you an idea, a 12-pound bag of Orijet would set you back $69.99, which means each pound costs roughly $5.83.
Acana, on the other hand, is a little more budget-friendly for cat owners that want to provide the best for their cats. Considering a 4-pound Acana bag sells for $20.99, each pound of this cat food recipe is $5.25.
6. Pros and Cons
1. Acana cat food
Pros
Acana contains a variety of meat sources.
It has 25% to 35% protein content which is lower compared to Orijen.
Champion Petfoods utilizes fresh and locally-grown ingredients for Acana cat food.
Cons
Majority of Acana cat food selections has limited flavor variations.
2. Orijen cat food
Pros
Orijen has a higher protein content and nutrition benefits
Uses six premium meat sources
Has better flavors than Acana
Cons
Can be hard to find if you are outside Canada.
Pretty expensive
Despite their differences, both cat food is worth trying for your cats since it is both high-quality compared to the general cat food in the market.
Which is Right for Your Cat?
Both Acana and Orijen are trusted brands in providing a wide range of high-quality dry and wet cat foods. However, you have to consider your cat's dietary needs and health concerns in choosing a formulation.
Orijen is more recommended between the two since it is of higher quality than Acana. Still, Acana is also a reputable brand when you are a little out of the budget.
Ultimately, it is best to consider consulting your trusted veterinarian before deciding.
 Conclusion
As a cat owner, selecting a healthy cat food brand for your feline friend is a must. This ensures that your pet will get all the nutrients it requires.
Acana Vs. Orijen cat food – these are the two brands feline caretakers usually compare when choosing a nutrient source for their pet. Despite being made by the same company, it's worth noting that these cat food selections have differences.
If your furry friend has a diet that primarily consists of meat, then Orijen is the ideal choice. If you are not sure which brand to get, consulting a veterinarian is ideal.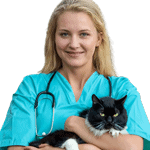 Hi, I am Amy Sawy, a veterinary professional working in the field for nearly 15 years. This site is established to provide cat guardians access to helpful information and health care advice. My co-worker and I run this site mainly to help inexperienced families currently taking care of their cats without professional guidance.