Felines are a source of joy for pet owners. But cleaning their litter is a different story. Fortunately, self-cleaning litter boxes are now becoming popular. Among these automatic cleaners are Litter-Robot and CatGenie.
As the name suggests, these convenient tools do all the cleaning work for you. But Litter-Robot vs CatGenie – which cleans your cat's litter better?
| | | |
| --- | --- | --- |
| Criteria | Litter-Robot | CatGenie |
| Type | Self Washing | Self Washing |
| Wi-Fi Enabled? | Yes | Yes |
| Warranty | 1 Year and 6 Months | 2 Years |
| Capacity | Up to four cats | 2 to 3 cats with 20 lbs. weight limit |
| Control | App control | App control |
CatGenie vs. Litter-Robot
One of the worst parts of owning a cat is cleaning its litter box. However, it is also a crucial task to keep your pet healthy and sanitary.
The continuous advantage of technology paved the way for self-cleaning litter boxes. Among these litter boxes are Litter-Robot and CatGenie.
How does the Litter-Robot work?
The brand Whiskers began creating the Litter-Robot in 2000. After years of developing and improving the product, its latest model is the Litter-Robot 4.
The Litter-Robot 4 features a patented shifting process that allows it to automatically scoop your pet's waste. There is a waste compartment where the solid wastes collect, making it easy to remove when you need to empty the litter box.
A sensor is inside the device, so you do not have to worry that it might accidentally pinch your pet. This sensor detects when your cat is using the robot and begins scooping the litter as soon as your pet leaves.
This way, your feline will have a fresh bed of litter sand every time it uses the box.
How does CatGenie work?
Similar to Litter-Robot, CatGenie is also a self-scooping litter box. The difference is that the latter has a hopper that you can connect to your toilet to enable automatic flushing.
The CatGenie commercial litter box can also wash and disinfect its litter box before drying it using hot air.
Unlike the Litter-Robot, which uses regular litter sand, CatGenie uses washable and reusable ones. For this reason, it will not clog your toilet and drain.
The CatGenie also has built-in sensors called Genie Eyes, which detect the presence of your feline inside the box. The Genie Eyes also prompts the box to begin the cleaning cycle after your pet leaves the box.
Litter-robot Vs. Catgenie: A Comparison of Features
1. Size and setup
The Litter-Robot looks nothing like a litter box. It has a stylish design and comes in various colors.
It is also a large device, measuring 24.35 inches x 27 inches x 29.5 inches.
This self-cleaning robot comes pre-installed, so all you have to do is plug it in and connect it to the app on your phone.
On the other hand, the CatGenie looks similar to a human toilet. It has a toilet seat with a basin inside, which holds the reusable litter granules.
The CatGenie's dimensions are 24.5 inches x 19.25 inches x 21 inches.
In terms of the setup, you need to have a space for the CatGenie near your toilet. It comes with various attachments, which you must connect to the water line.
Needless to say, the Litter-Robot is easier to set up than the self-cleaning litter box Genie.
2. Operation
As mentioned, the Litter-Robot and CatGenie use a self-cleaning mechanism.
Inside the Litter-Robot is a rotating scooper with small holes that separate the clumped litter sand from the fresh ones. The robot will then deposit the clumps into a waste compartment.
Meanwhile, the CatGenie will not require you to empty its waste compartment manually, as it does all the cleaning work. After your feline urinates or takes a dump, the waste will be deposited into a hopper.
This waste mixes with water and SaniSolution before being flushed down the toilet.
3. Odor control
Like the Litter-Robot 3, the Litter-Robot 4 has the OdorTrap System, which prevents the foul odors of feline waste from escaping out of its dome. You may also purchase OdorTrap Pod for additional odor control.
The CatGenie's hopper holds the smell of your feline's waste after collecting and macerating it. You can purchase CatGenie accessories, such as a dome for the CatGenie to control odor better.
4. Cleaning settings
The Litter-Robot has manual and automatic cleaning modes. With the manual mode, you have to trigger the robot's cleaning cycle.
Meanwhile, the automatic cleaning feature begins after the robot senses that your cat is no longer in the box.
The CatGenie has a more particular automatic cleaning feature than the Litter-Robot. Called the "cat activation mode," this self-cleaning feature begins a few minutes after your feline friend leaves the box.
You may also set the CatGenie to initiate a cleaning cycle every 6, 8, 12, and 24 hours.
Regardless of the litter box you have, you can control its settings through an app that you can install on your smartphone.
The Pros and Cons of Self-cleaning Litter Boxes
When choosing between the Litter-Robot and CatGenie, knowing their benefits and disadvantages is crucial.
Litter-Robot
Easy to set up and use
Features automatic litter scooping
Suitable for up to four felines
Good odor control
Silent operation
Space consuming
A bit on the pricey side
CatGenie
Automatically scoops and disposes of litter
Cleans and disinfects the litter dome automatically
Comes with a 2-year limited warranty
Has washable, reusable litter granules
Cleaning cycles are long
The biodegradable litter granules do not work well in absorbing odor
Not good for small and soft feces
Creates noise during cleaning
Litter-Robot and CatGenie Cost
The latest Litter-Robot – the Litter-Robot 4 – costs $879. Apart from the robot itself, the package comes with the following:
Litter mat
25 waste drawer liners
20 lbs of Litter-Robot cat litter
A pack of OdorTrap pods
Meanwhile, how much is the CatGenie? The CatGenie costs $479, including the:
CatGenie cat box
Lifetime CatGenie App access
One box litter granules
Water line adapters
A SaniSolution cartridge
Tips for Choosing the Right Automatic Litter Box
The first thing you need to consider when getting a litter robot is the size. If you own multiple felines, getting a large litter robot can accommodate all their waste.
Getting a large litter box will also prevent the litter granules from scattering out when your pet digs it.
The device should also have sensors that detect when your pet gets in and out of the box. This way, you can prevent the cleaning cycle from starting when your feline friend is still inside the box.
Noise and odor control are also important features. Choose a robot that works as silently as possible.
It should also have an odor-absorbing feature so that the feline waste will not smell while it is still in the waste compartment. A box with a cover will also help with the odor.
Finally, consider the device's price and warranty.
Frequently Asked Questions
Do cats actually use Litter-Robot?
Yes, but you first need to familiarize your pet with the litter box. If your feline friend is using an ordinary cat litter box, switching to the Litter Robot means potty training your pet all over again.
Who are CatGenie's competitors?
CatGenie's primary competitors are Pet Zone – Smart Scoop, Litter-Robot, and PetSafe's ScoopFree Ultra.
Meanwhile, the Litter-Robot alternatives and Litter-Robot competitors are PetSafe's ScoopFree Ultra and Pet Zone – Smart Scoop.
Is CatGenie good for multiple cats?
According to CatGenie's website, the CatGenie can accommodate up to three felines. However, it is worth noting that the device has a weight limit of 20 lbs.
Conclusion
Litter-Robot vs. CatGenie – if you are taking care of a feline friend, you are probably wondering which of these automatic litter boxes to use. The choice all boils down to personal preference.
If you have limited time to empty a litter box compartment every morning, the CatGenie is a good choice. The reason is that it does all the waste disposal and cleaning.
On the other hand, the Litter-Robot is a fantastic choice for people who seek a litter box with great odor control.
Read more: How often should I change cat litter?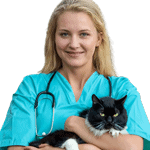 I am Amy Sawy, a Doctor of Veterinary Medicine (DVM) graduate from the University of Kansas. y husband, Dr. Plummer, and I own a veterinary clinic in Phillipsburg, Kansas. In addition to my professional background, I am a devoted pet owner myself, with a household that includes dogs, rodents, and most notably, cats – a total of five felines in my home.
In 2020, I joined an organization as a professional writer, leveraging my experience and collaborating with my team to deliver the most valuable information for your cat's care.