Cats portion out their food until they finish the entire bowl. This eating habit increases the risk of your feline's food spoiling.
Considering this fact, you may ask, "how long can you leave wet cat food sit out?"
Wet cat food should never sit at room temperature for more than two hours. Leaving wet food in a bowl for too long causes it to harbor bacteria, which is detrimental to your feline's health if ingested.
How Long?
Have you noticed your feline does not finish its food in one sitting? You may be wondering what the reason for this eating habit is.
The average size of a cat's stomach is a ping-pong ball, which can only hold small portions of food from time to time. For this reason, they need to have several breaks when eating instead of finishing it all at once.
But while this eating habit does not affect your cat's overall health, wet cat food goes bad if left out for too long.
Only leave wet cat food out for one to two hours at room temperature to avoid spoilage. Letting your feline's food sit out unsealed for too long will cause it to dry out and be unappealing.
As a result, it will refuse to eat the food, which leaves you with no choice but to throw it away. You also encourage bacteria and pathogens' growth when you keep wet cat food out for an extended period
How's Too Long?
If your cat ate wet cat food contaminated with bacteria, there is a high chance for it to experience various digestive issues.
You need to bring your feline to the veterinarian as soon as you notice symptoms like diarrhea, nausea, and vomiting. Diarrhea and vomiting are dangerous to cats as they cause dehydration. If worse comes to worst, your pet may develop digestive issues that are difficult to treat.
While cat food is only good for one to two hours after opening it, it is worth noting that the amount of time it will take for wet cat food to spoil depends on its environment. If wet cat food stays out in a warm and moist environment, it will go bad at a much faster rate.
If you are feeding your feline with dry cat food, spoilage is less likely to be a problem, as it takes days before it goes bad. You can leave dry cat food at room temperature for days without it developing mold and pathogens.
However, failing to store leftover dry cat food properly will cause it to become stale, especially in humid environments.
What to Do With Leftover Wet Cat Food? How to Store It Properly?
Knowing how to store leftover wet cat food properly is crucial to keeping it fresh. Below is a storage practice that you can do to cat food that your feline failed to consume:
1. Transfer the leftover cat food to a clean container
You should never leave leftover cat food inside its original packaging. Unsealed packages are prone to faster degradation and bacteria development, even if you store it in a dry place.
That said, transfer and store wet cat food in a clean and sealable container. This way, you can prevent moisture from touching the food and causing spoilage.
Airtight containers are the only ideal storage for wet cat food, especially if they are made of metal or glass. Some plastic bags contain BPA and other chemicals.
These toxic chemicals can contaminate your pet's food. If consumed, wet cat food contaminated with chemicals found in plastic can cause cancer.
2. Refrigerate cat food
Once opened, wet cat food needs to be refrigerated within two to four hours to ensure that it stays fresh. The ideal temperature for unsealed cat food is 40 to 45 degrees Fahrenheit.
While refrigerating leftover wet cat food can inhibit the growth of bacteria and mold, you need to feed it to your feline friend within 5 to 7 days.
Moreover, you need to warm refrigerated cat food before giving it to your cat, as felines do not usually like their food cold.
To warm the cat food up, you can soak the container in hot water for a few minutes. If the food is too much for your feline friend, take a serving, put it in a microwavable container with a lid, and warm the cat food up for 30 seconds on a low setting.
What Happens if I Leave Wet Cat Food Out Overnight?
It will only take a couple of hours for bacteria to grow on wet cat food. On the other hand, mold and mildew are different cases.
Mold and mildew start to grow when you let canned cat food sit out for a day, depending on the weather and temperature. They change your feline's food composition and absorb the nutrients in it.
Even worse, these fungi can produce toxins, which are fatal if consumed by your cat.
Fortunately, mold and mildew are visible once they grow on cat food. The only problem is when you fail to check your cat's food bowl, and the cat eats the wet food that was left out.
If your pet suddenly showed the following symptoms hours after eating, chances are it ingested food that has gone bad:
weakness
fever
nausea
vomiting
lethargy
diarrhea
loss of appetite
blood or mucus in stool
Conclusion
The food your feline eats is crucial to maintaining good health. While finding nutritious cat food is easy, proper storage is critical in order to keep leftover cat food fresh and appetizing for your pet.
One of the most important things you need to know when feeding felines is how long is wet cat food good for. Bacteria can easily contaminate cat food, so knowing what to do with leftover cat food can prevent spoilage and waste.
Furthermore, we hope that this post answers how long can you leave wet cat food sit out.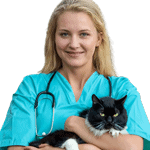 Hi, I am Amy Sawy, a veterinary professional working in the field for nearly 15 years. This site is established to provide cat guardians access to helpful information and health care advice. My co-worker and I run this site mainly to help inexperienced families currently taking care of their cats without professional guidance.