Vomiting is one of the most common symptoms of health issues in cats. When you see your cat throwing up one after another, you may panic and immediately bring it to the veterinarian.
However, the tricky thing is that vomiting is not always "vomiting." Regurgitation also causes felines to expel their bodily contents.
In this article, we'll discuss the difference between cat regurgitation vs. vomiting.
Regurgitation and Vomiting in Felines
One thing worth noting when comparing cat throw-up vs. regurgitation are that they are not always signs of health problems. For this reason, knowing the reasons why a cat throws up is crucial.
1. What is vomiting in felines?
Cat and kitten vomiting is the forceful evacuation of stomach contents through the mouth. A cat's vomit normally consists of digested food, water, and stomach acid.
As cats usually swallow their fur, vomiting is also their way of eliminating hairballs from their stomachs.
This biological process aids felines in getting rid of stomach irritation. However, it can also indicate underlying health conditions, such as poisoning, infection, and metabolic disorders.
If your feline vomits frequently, a veterinarian should evaluate it to determine the cause and the appropriate cat vomiting medicine.
2. Feline regurgitation
Vomiting and regurgitation are both the expulsion of stomach contents through the mouth. But unlike vomiting, where digested food comes out, regurgitating cats expel undigested food and substances.
When your cat regurgitates, the substances it expels may come in solid chunks of undigested food mixed with saliva. Cats cannot digest the substances they regurgitate; they only reach their esophagus, not the stomach.
When a cat is regurgitating undigested food, it can be a sign of underlying health problems, such as anatomical abnormalities, gastrointestinal issues, and swallowing difficulties.
Many pet owners ask, why does my cat keep throwing up but seems fine? It can be just regurgitation and not vomiting due to health issues.
Comparing Cat Vomit Vs. Regurgitation
Vomiting and regurgitation are both digestive responses when cats need to remove indigestible substances from their stomach. But while these biological processes look the same, they are not synonymous.
Below are the differences between vomiting and regurgitation:
1. Vomiting is an active effort; regurgitation is passive
Vomiting is an active excretion of stomach contents, meaning cats gag and retch when they throw up. As a result, partially-digested, de-nutrified stomach contents and bile from the small and large intestines are ejected.
Frequent vomiting causes tooth erosion, as a cat's stomach acid can cause decay.
Meanwhile, regurgitation is a passive expulsion of a cat's ingested food from the esophagus. Meaning regurgitated substances did not reach the feline's stomach.
Regurgitation does not involve gagging and retching, hence the description "passive." It also does not consist of stomach acid and bile.
Instead, cat regurgitation after eating may involve the expulsion of mucus and wet food.
2. Color and Appearance
Different vomit colors may indicate various causes of cat vomiting. Take a look at the color chart below to understand the differences between feline vomit colors.
| | | | |
| --- | --- | --- | --- |
| Yellow/Orange | Green | Red /Pink | Black/Brown |
| May indicate digestive problems. Yellow or orange vomit consists of partially digested food and bile. | Green vomit has a high volume of bile. It may also indicate that your pet ate something green, like a treat with green food dye. | Cats that vomit red or pink substances may have ingested food with red dye. However, it may also indicate the presence of blood in the vomit. | Indicates digestive tract bleeding. When a cat's vomit is black or brown, it needs immediate medical attention. |
On the other hand, regurgitation may appear white and foamy due to the presence of saliva from the esophagus. Regurgitated substances look almost the same as the food your pet chewed and consumed.
3. When it happens
Vomiting and regurgitation happen after a cat eats. However, vomiting may happen an hour or more after you feed your cat.
So, when vomit is ejected through your pet's stomach, the contents are already partially digested.
Regurgitation happens almost after the feline has eaten. The reason is that the food your pet ingests only reaches the esophagus, making it easy for the cat to expel it.
4. Causes
Causes of Feline Vomiting
Hairballs – Among the most common causes of vomiting are hairballs. When your pet grooms itself, it swallows hair, which accumulates in its stomach, forms hairballs, and causes it to vomit.
Dietary Issues – Cats have small stomachs. So, when they eat too much or fast, they throw up the food their stomachs cannot contain.
Felines may also throw up due to food allergies.
Gastrointestinal Disorders – Gastrointestinal infections, parasites, and blockages can cause vomiting and irritate your pet's stomach.
Stress and Anxiety – Felines are sensitive, so they easily become stressed and anxious. Too much stress can cause a cat to vomit, much like stress can make humans sick in the stomach.
Poisoning – Cats are curious creatures and may ingest something toxic to them, which can cause vomiting. When your pet is vomiting persistently, it is best to bring it to a vet who can prescribe a cat vomit treatment.
Why a Cat Regurgitates
Eating too fast – When a cat eats too fast, its stomach cannot handle the volume of food. So, you'll see your cat regurgitating wet food to expel some of the food it ingests.
Dietary Issues – A feline's digestive system is sensitive. So, sudden changes in its diet or eating food it does not like can cause regurgitation.
Overeating And Drinking – Cats that eat and drink too much may experience stomach discomfort. They get rid of this discomfort through regurgitation.
If a cat's regurgitation is liquid, it can indicate that your pet drinks too much.
Stress And Anxiety – Felines that are anxious during feeding time may experience stomach irritation, which results in regurgitation.
How to Stop and Prevent Feline Vomiting and Regurgitation
While vomiting and regurgitation normally occur in cats, they can be alarming if they happen frequently. Cleaning after your pet's vomited stomach content can also be a tedious task.
So, treating the causes of vomiting and regurgitation, as well as preventing them from happening again, is vital.
1. Identify the cause
The first step to treating and preventing vomiting and regurgitation is to identify the underlying cause. You can identify these causes by watching how your feline friend eats and what happens after it has eaten.
However, it is better to visit a veterinarian, as they can better identify the cause of your cat's stomach sickness. Visiting a vet will also help diagnose if your cat's condition has an underlying health issue.
2. Give your cat the appropriate medication
If your vet finds any health issue in your pet, they may prescribe the appropriate medication. To stop regurgitation in cats, ensure that your feline is taking this medication appropriately.
Some of the commonly prescribed treatments for feline vomiting and regurgitation are anti-nausea medications, appetite stimulants, and acid reducers.
3. Change your pet's diet
In some cases, dietary changes may be necessary to prevent vomiting or regurgitation. If your cat is eating too fast or too much, you can purchase a food bowl that makes your feline eat slower.
You also need to control the portions you feed your pet.
4. Eliminate stressors
As stress can cause stomach issues, it is important to ensure your feline is in a calm, peaceful environment and provide them with plenty of toys and activities to keep them occupied.
Frequently Asked Questions
Acute vomit meaning
There are two types of cat vomit – chronic and acute.
Chronic vomiting means regularly throwing up for a long period of time. When a cat experiences chronic vomiting, it may either throw up daily or monthly.
Meanwhile, acute vomiting happens when a feline that does not have any stomach issues unexpectedly vomits. This can be a cause of concern, especially if your pet is frequently vomiting.
Should I feed my cat again after regurgitation?
You can let your pet continue eating after it has regurgitated. But if it becomes uninterested in its food, take the food away and wait a few hours before offering it to your pet again.
Giving your cat a smaller food portion after regurgitation is also ideal for preventing overfeeding.
How long does regurgitation last?
There is no definite way of telling how regurgitation lasts. It happens instantly after your cat has eaten.
Such is why you'll see your cat regurgitating mucus and undigested food.
Regurgitation will persistently happen until you find out its cause and treatment.
Vomiting in cats; when to worry?
If your pet is lethargic, weak, and has lost its appetite after vomiting, it is best to consult a veterinarian.
Conclusion
Cats are curious animals. So, they may accidentally ingest something that may make their stomachs sick.
For this reason, the best way to prevent vomiting and regurgitation is to keep human medications, toxic substances, such as cleaning supplies, and small objects away from your cat.
If your cat is regurgitating frequently, the best thing to do is to bring it to a veterinarian.
We hope that this article clears the differences between cat vomiting vs. regurgitation.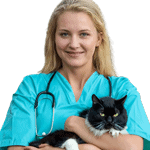 I am Amy Sawy, a Doctor of Veterinary Medicine (DVM) graduate from the University of Kansas. y husband, Dr. Plummer, and I own a veterinary clinic in Phillipsburg, Kansas. In addition to my professional background, I am a devoted pet owner myself, with a household that includes dogs, rodents, and most notably, cats – a total of five felines in my home.
In 2020, I joined an organization as a professional writer, leveraging my experience and collaborating with my team to deliver the most valuable information for your cat's care.