There has been an increase in demand for fresh food delivery services for pets – and the two leading companies in this area are Cat Person and Smalls. In this article, we will focus on cat food comparison between the above-mentioned brands.
Both cat food brands offer high-quality and fresh products for cats which eventually get delivered to your doorstep.
But the question is, which is better – Cat Person vs Smalls? Which is more suitable for you and your furry friend?
Based on our research, the overall preference of most cat owners is Cat Person.
Side-by-side Comparison: Cat Person vs Smalls
In this specific section, we compare cat foods side by side for your easy understanding and to summarize the main difference between the two.
| | | |
| --- | --- | --- |
| Category | Cat Person | Smalls |
| Ingredients | No artificial colors, preservatives or flavors | Human-grade, no artificial additives or preservatives |
| Price and Offers | $60 meal plan, no subscription needed | Meal plans range from $90 to $120 per month |
| Packaging | Flexible, convenient and double-purpose box | Insulators can be dissolved, cardboard and bags recyclable |
| Refund | Money-back guarantee policy in place | Full refund in certain circumstances |
| Food Quality/Recipe | Wide variety of wet and dry food, treats available | Personalized meal plans based on cat's health and diet, freeze-dried and kibble options |
Smalls Cat Food?
Looking for a fresh and healthy meal option for your fur baby? Smalls might be the right fit for you and your cat!
Smalls is a pet food company that focuses on using human-grade ingredients. Aside from their cat meals, they also offer freeze-dried raw food and treats which are in kibble sizes.
They are also known for having personalized meals – which depend on your cat's health, and diet. You may ask for a customization meal for your cat to fully equipped your fur baby with the nutrients it needs.
1. Food quality
Smalls are known for having their cat food fresh and human-grade – meaning, humans can eat the products that they produce without worrying about any health safety. Their cat food meets or even exceeds the food standards that we, humans, have.
This company also prides itself in making cat food with no artificial additives and preservatives and using a sustainable means of sourcing its ingredients in the United States and Canada.
2. Shipping and delivery
Smalls offers a hassle-free and convenient shipping and delivery service to make it easier for cat owners to provide their furry friends with fresh, healthy meals.
The process starts with a trial week, where you can test out the new food and make any necessary adjustments. This also includes free shipping.
After this trial week, they will prepare the full order for the second week. However, you may request to delay this order and schedule another.
You can also check the Smalls' portal to see the delivery schedule of the cat food, which ranges from 2 to 8 weeks. The delivery will now include a flat shipping fee of $10.
If you are wondering how Smalls delivertheir product, they usually use dry ice to keep it fresh during the transit. For now, they ship within the United States.
You also need to take note that even after the two-week trial period, Smalls can still keep on charging you and delivering their products to you since after the period, you automatically subscribed to their offers.
3. Packaging
If there's anything Smalls has gotten down, it is their packaging. They make sure that they adhere to environmental protocols and sustainability.
Smalls' packaging is recyclable and eco-friendly. By this, instead of adding to the growing numbers of waste in the world, their packaging (insulators) can be easily dissolved in water.
The remaining parts of the packaging – the cardboard box and the green bags – can be put in one of those recyclable bins.
4. Recipe
Type of Food
Flavors
Human-grade fresh food
Chicken, Turkey, Beef, Fish
Freeze-dried food
Chicken, Turkey, Duck
Treats
Giblet niblets (100% chicken)

Chicken broth

Kibble
5. Price
Smalls offers a variety of meal plans to suit the dietary needs and preferences of your cat. The cost of these plans will vary depending on the option you choose, but the average cost typically ranges between $90 to $120 per month.
6. Pros and cons
We have crafted a simple table of pros and cons to help you better in weighing your options.
Tailored meal plans based on your cat's needs and preferences
No artificial additives, and fillers
High-quality, fresh ingredients used in all meals
Production of cat food consulted by a pet nutritionist
Multiple protein options for your cat's suitability and diet
Premium price
Can't view recipes without subscription
 Only available through online ordering and subscription
Limited menu options compared to other cat food companies
No custom portions
7. Some popular products from Smalls:
Popular Smalls's Product: Smooth Bird Recipe
Human-Grade Fresh Food: Cow Recipe
Freeze-Dried Food: Duck Recipe
Freeze-Dried Treat: Giblet Nibblet
Cat Person Cat Food?
Cat Person is a great choice for cat owners looking for high-quality and varied options for their feline friends. What sets them apart is the range of products they offer, from wet and dry food to treats and personalized monthly meal plans.
Their recipes are low-carb and high in animal protein, which can help your cat with digestion.
One thing to note is that Cat Person doesn't manufacture their food, instead relying on an external company. However, they're committed to using manufacturers who prioritize reducing their carbon footprint and sustainably sourcing their ingredients.
Although Cat Person does not state that they produce human-grade cat food, they, however, produce food in human manufacturing plants.
In fact, they've recently opened a solar-powered manufacturing plant in the US, which is a great step towards sustainability.
Aside from food, Cat Person offers a variety of other cat-related products, including toys and beds.
1. Food quality
Cat Person prides itself on using human-grade ingredients to create its high-quality, grain-free recipes. With an impressive lineup of 19 different cat recipes, including eight flavors for wet food and three dry food recipes, the company ensures that each formula contains at least 50% more protein than the industry standard set by the Association of American Feed Control Officials (AAFCO) and is MSC (Marine Stewardship Council) Certified.
2. Shipping & delivery
Cat Person currently ships within the continental US only, and new customers will receive a Starter Box to get them started.
Options you may choose from:
Wet Starter Box
Wet & Dry Starter Box
After three weeks, you'll receive your first full Meal Plan box and then receive shipments every four weeks. You can make adjustments to your delivery schedule through your online account.
One of the perks of Cat Person's Meal Plans is free shipping, and you'll also get 10% off every order. You can also purchase individual packs of food if you want to mix things up.
3. Packaging
Overall packaging of Cat Person is flexible and convenient. We have listed parts of packaging for you:
Tricolor serving set which includes 3 serving spoons, 3 wet food lids, and 1 dry food scoop
Transition food guide
Resealable bags for dry food
Box can be a puzzle toy for your cat
4. Recipe
| | |
| --- | --- |
| Type of Food | Flavors |
| Wet Food | Chicken, Tuna, Duck, Beef, Chicken & Duck, Turkey & Chicken, Salmon & Tuna, Mackerel & Bream |
| Dry Food | Duck & Turkey, Salmon & Tuna, Chicken & Turkey |
| Goodness Blends | Bone and Joint, Cognitive Health, Digestive support, Immune support, Skin and coat |
5. Price
Prices may depend on the plan that you will be choosing. But in general, their subscription plan costs around $60 monthly.
If you are not a fan of subscriptions, you may buy an "a la carte" meal for your cat.
6. Pros and cons
Many recipes and non-food products
Excellent and convenient packaging
Free shipping and 10% off every delivery
All recipes meet AAFCO standards & MSC certified
Can customize meal plans
Does not manufacture on their own
No custom portions
No help from pet consultant for their cat food
Costly
Bad customer service
7. Some products from Cat Person:
Top Rated Cat Food: Chicken & Turkey Dry Food Recipe
Chicken Shreds
Salmon & Tuna Dry Food
Goodness Blend: Digestive Support
Which is Better: Smalls vs Cat Person
Overall, we think that Cat Person is a better brand than Smalls and offers the best kitten food.
Aside from their variety and wide options of recipes, they also have great packaging and free shipping that many customers would love to see in a cat food company. The ability to customize their cats' meals is something we believe many cat owners will appreciate.
Tips to Choose the Right Cat Foods for Your Cat
Torn between so many cat food options? Consider the points below and you shall find the perfect supplier to satisfy your feline friends.
Conduct ingredients comparison.
Read the labels on cat food.
Consider your cat's diet, weight, and age.
Be mindful of any allergies your cat has.
Consider your budget.
Frequently Asked Questions
What brands are like Smalls?
If you want to find alternatives to Small cat food, check out products from the following brands:
Albar Pet
Hungry Bark
FreshPet
How much is Cat Person per month?
The cost will vary on the products you want to buy but generally costs around $60 per month.
Conclusion
Choosing the right food for your cat is crucial to their health and well-being. It's important to consider your cat's age, weight, and any potential allergies or health conditions when selecting a food.
We hope that this article, Cat Person vs Smalls, has helped you in making a decision about which cat food company is best for your fur baby.
Remember to always consult with your veterinarian and read labels carefully when selecting cat food. By following these tips and doing your research, you can ensure that your cat is getting the proper nutrition they need to thrive.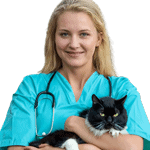 Hi, I am Amy Sawy, a veterinary professional working in the field for nearly 15 years. This site is established to provide cat guardians access to helpful information and health care advice. My co-worker and I run this site mainly to help inexperienced families currently taking care of their cats without professional guidance.